Click here to get this post in PDF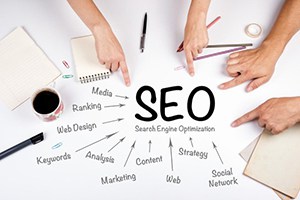 Are you using SEO services to boost your website traffic and generate more leads? In today's competitive market, it's incredibly important to make sure that your website has a high ranking on search engines. 
To make sure you are allowing your website to reach more qualified leads, SEO services are a must. . Keep reading this mini SEO for dummies guide to learn more about the different types of SEO services out there so that you can find the best option for you.
This article contains affiliate links. For more info, see disclosure.
Keyword Research 
Keyword research is one of the most important fundamentals of SEO. This strategy is one that has been used since the early days of the search engine and is the best way to get traffic from these search engines. To do so successfully, you will need high-quality website content on subjects people are in need of. 
To find the best keywords, you have to think about what people are searching for when it comes to your industry, products, or services. You should then use these words or phrases that people use when typing into the search engines. Keyword research involves figuring out what topics and keywords you should target and write about. 
This research typically involves using tools to examine what keywords you should be using by looking at what words your competitors are ranking for. It's best to find keywords that have a decent amount of search volume but have a low amount of competition. You should then write very high-quality content that actually deserves to rank for the topics you choose. 
Content SEO 
Content SEO involves creating high-quality, curated content that is successful in answering searchers' queries. When people are searching for answers, information, or advice on the internet, they want content that will give them what they are looking for.
When creating content SEO, you will be using your keywords and their synonyms in different places so that search engines can figure out what your content is about and rank you accordingly. It's important to make sure that these keywords are placed naturally, both in the title and throughout your text for the best results. 
Local SEO
Local SEO is important for those that have a local business such as a restaurant, medical practice, or store. By using various different SEO techniques and strategies, local SEO services work to boost your site's ranking when people located in your area are searching for your products or services. It also helps your business appear in Google maps which can generate physical traffic to your brick and mortar location. 
Click the link to find out more about local SEO. 
The Main Types of SEO Services 
The types of SEO services your website will need will depend on your business type, as well as the goal of your website. Keep this guide to the main types of SEO services in mind to figure out what kind of SEO technique would best serve your website. Generate more leads using these SEO strategies today. 
For more SEO related advice and information, head to the "Technology" section of our site!
You may also like: 10 ways to improve your Local SEO
This article contains affiliate links. For more info, see disclosure.