Click here to get this post in PDF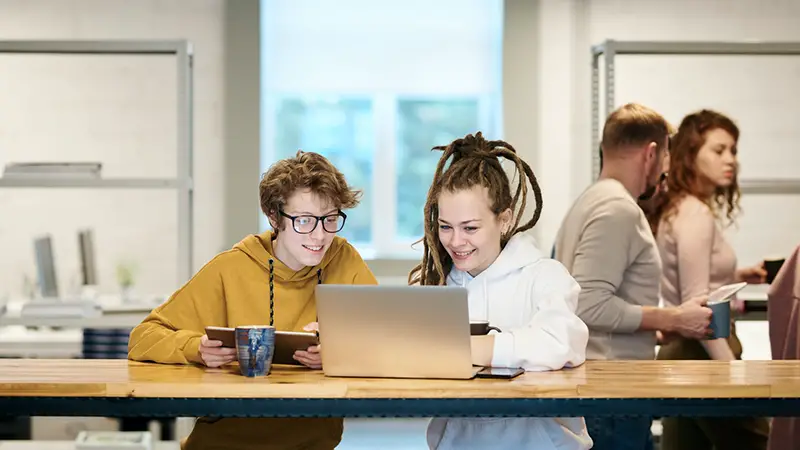 As someone who's job hunting, you're going to want to find a position for which you have the required skill set. Failing that, you want to locate a job where you can learn the necessary skills without too much difficulty. Generally, though, you'll find that an employer is willing to hire you if you seem to have the skills for which they're looking, but also the correct attitude that they feel will make you a valuable team member.
As for you, the prospective worker, there are several job features for which you'll look as well. Not just any position will do, and if you see that your would-be employer offers the following features, you'll probably be more inclined to get on board.
Work from Home Capabilities
If you have to go to a brick-and-mortar location every day, that makes a job less attractive more times than not. Some jobs require it, but more than ever, some employers allow their workers to clock in and work from home.
If your would-be employer lets you do this, it makes an at-work injury less likely. That matters. Every year, thousands of work-related injuries occur, and when they do, you have to worry about collecting your lost wages and taking time off while you heal.   
If you have a boss who allows you to work from home, you don't have to get up as early in the morning. Sleeping in that extra half hour is great, as is avoiding that stop-and-go rush hour traffic. You can save gas money, and you may not need to buy a bus or train pass.
If your boss will let you work from home at least part of the time, that's an ideal way for you to learn, right off the bat, that a considerate individual or company employs you. If you know you can work from home effectively, but your boss insists that you come to a brick-and-mortar location every day, you might come to resent the job because of that.
Excellent Healthcare
A job that offers great healthcare is becoming like the golden grail in modern society. If your position offers a top-of-the-line healthcare plan for not just yourself but your family as well, you might be willing to put up with a lot more job-related headaches because of that.
The fact is, as long as there's privatized healthcare in this country, gainful employment is likely your best path to comprehensive healthcare coverage. The only other way to get it is through the marketplace, and it's seldom cheap to buy it that way. If you're self-employed, you might end up with a plan that's costing you a great deal out of pocket, yet you still have to pay a high deductible every year.
The job that offers you and your family better-than-average healthcare is going to move to the top of your list. That might be the feature you look for before just about anything else.
A 401K Plan
Companies that offer 401K programs should also get preferential treatment. Saving for the future is challenging. You can always open up an IRA retirement account, but you might only be able to put money in it intermittently.
If you want to save for the future, a job with a 401K plan is a structured way to do that. If you set up your paychecks so that a certain amount goes into your 401K every time your company pays you, then you'll know you're steadily saving for your eventual retirement.
Also, most companies will match your contributions up to a certain amount. That amounts to free money for you, so that's an opportunity that you won't want to miss.
Lots of Paid Vacation Time and Maternity Leave
You'll likely favor a company that will grant you plenty of paid vacation time. You might not expect very much during your first year there since your boss is probably trying to figure out whether you're going to stay with them in a long-term capacity.
Once you have been there for a couple of years, though, you should expect lots of paid time off. Business entities need to understand that if their employees are willing to work hard for them, they should give them paid downtime, so they don't burn themselves out.
Companies should also offer both paid maternity and paternity leave. You might not have kids when you start a job, but if you're expecting a new baby in the family, your company should allow you to take paid time off when the moment comes. They should not penalize you or cause you stress if you want to start or add to your family.
Other Perks
There are other perks that a company might offer you to entice you to work there. They might offer stock options if they are a publicly-traded company. Perhaps they'll provide you with a vehicle if they're dangling a highly-placed position in front of you.
They might offer you a free bus or train pass if there's a brick-and-mortar location to which you must commute every day or most days. They might give you a gym membership, or perhaps they have onsite exercise facilities. Some companies these days offer free yoga or meditation classes.
Your company might have casual Fridays or pizza Wednesdays. They might give everyone in the office a phone plan or a Fitbit.
The more perks a company gives their employees, the more they let them know that they care about them and hope to retain them. If a company pays you minimum wage and tries to deny you healthcare and other basics, that's a strong sign that they view you as expendable.
You want to find a company that values you if at all possible. It's foolish for a business to view its workers as an expendable commodity. If they treat you better, they won't have as much turnover, and they won't need to spend all their time interviewing, hiring, and onboarding.
You may also like: Here's Why You're Being Passed Over By Employers
Image source: Pexels.com